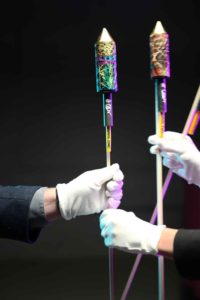 "Mit Wumms aus der Krise kommen." (Olaf Scholz).
Dieses Zitat hat der Künstler Herr Clair wörtlich genommen und eine Kunst-Edition entworfen die WUMMS macht. Diese besteht aus 7 einzigartigen Kunst-Feuerwerksraketen mit vergoldeter Spitze und einem Kaufpreis von 25.000 € pro Stück. Ein wahres Schnäppchen, denn wegen des Verkaufsverbot für Feuerwerk dürfen eigentlich keine Raketen mehr verkauft werden. Wer trotzdem zu Silvester WUMMS machen will, sollte bei den Kunstwerken zuschlagen.
Wie könnte das Jahr 2020 besser verabschiedet werden als mit Kunst die WUMMS macht und die Flüchtigkeit der Schönheit zelebriert. Ein wahrlich verrücktes Jahr liegt hinter uns, mit ungeahnten Herausforderungen, dunklen Tagen, mit Einsamkeit und Verzweiflung,  aber auch mit geschenkter Zeit, Kreativschüben und unvermuteten Hoffnungsschimmern am Horizont in Zeiten von Entbehrung, Verlust und Unsicherheit. Das zeigt sich in der Gestaltung der Kunstraketen.
Gestaltung:
Wie ein dunkler Schleier legt sich schwarzes Wachs um die Hülle der Rakete. An einigen Stellen ist die Oberfläche weggekratzt und die Buntheit der Welt scheint durch. Man muss unter die Oberfläche des Jahres 2020 schauen und dann kann man viel Solidarität, vielfältige kreative Ideen und unglaubliche positive Entwicklungen sehen. "Meine Kunst will Hoffnung machen und den Menschen Mut geben diesen Winter durchzustehen." Die Kunstraketen zeigen in die Zukunft, in dem es wieder explosiv, wundersam und bunt werden kann. Und manchmal ist ein WUMMS unablässig um das alte Jahr zu vertreiben und ein neues Einzuleiten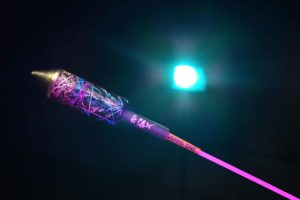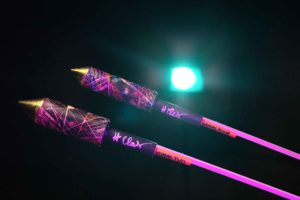 WUMMS Edition von 7 + 1 ARTIST PROOF – 2020/21
Preis: gesamte Edition: 101.000 €
Pappe, Leitstab aus Holz, Zündschnur, Treibladung, Trennladung, Effektladung, Schutzteile aus Plastik, Blattgold 24 Karat und Wachsmalfarbe.
WUMMS ONE
WUMMS TWO
WUMMS THREE
WUMMS FOUR
WUMMS FIVE
WUMMS SIX
WUMMS SEVEN
WUMMS ARTIST PROOF
besonderen Dank an
Kauri Scherer (Assistenz), Samuel Hof (Stage Design), Sebastian F. Meyer (Fotograf), Kunstverein Wagenhalle
WUMMS (BANG)
"Coming out of the crisis with a bang".
(Olaf Scholz).
The artist Mr. Clair has taken this quote literally and designed an art edition that makes WUMMS. This consists of 7 unique art fireworks rockets with gold-plated tip and a purchase price of € 25,000 each. A real bargain, because because of the ban on the sale of fireworks are actually no longer allowed to sell rockets. Who still wants to make WUMMS on New Year's Eve, should strike at the works of art.
What better way to say goodbye to 2020 than with art that makes WUMMS and celebrates the fleetingness of beauty. A truly crazy year lies behind us, with unexpected challenges, dark days, with loneliness and despair, but also with time given, creative spurts and unexpected glimmers of hope on the horizon in times of deprivation, loss and uncertainty. This is reflected in the design of the art rockets.
Design:
Black wax wraps around the hull of the rocket like a dark veil. In some places the surface is scratched away and the colorfulness of the world shines through. You have to look below the surface of 2020 and then you can see a lot of solidarity, diverse creative ideas and incredible positive developments. "My art wants to give hope and give people courage to get through this winter." The art rockets point to the future, in which it can become explosive, wondrous and colorful again. And sometimes a WUMMS is indispensable to drive away the old year and to initiate a new one.
WUMMS Edition of 7 + 1 ARTIST PROOF – 2020/21
Price: whole edition: 101.000 €
Cardboard, wooden guide rod, fuse, propellant charge, separating charge, effect charge, plastic protective parts, 24 carat gold leaf and wax paint.
WUMMS ONE
WUMMS TWO
WUMMS THREE
WUMMS FOUR
WUMMS FIVE
WUMMS SIX
WUMMS SEVEN
WUMMS ARTIST PROOF
special thanks to
Kauri Scherer (assistance), Samuel Hof (stage design), Sebastian F. Meyer (photographer), Kunstverein Wagenhalle
Anfragen/ Demand: